Continental GTC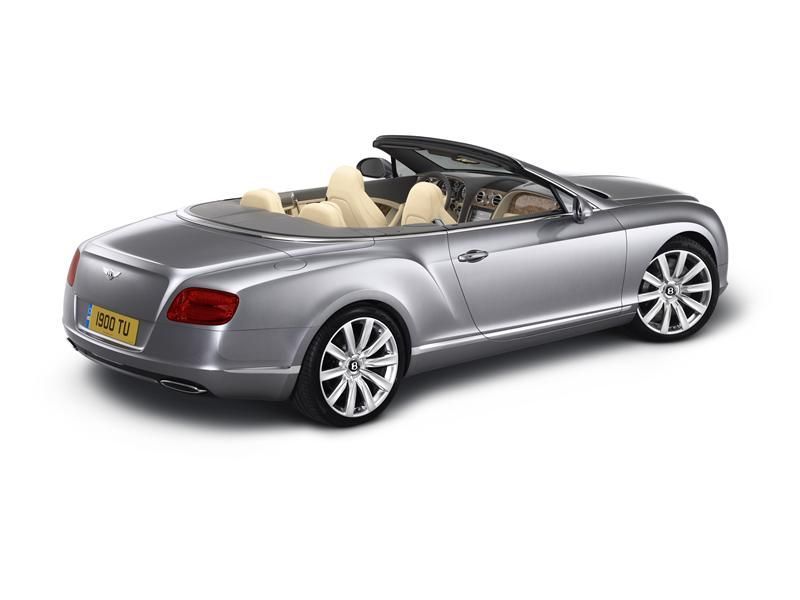 2012 Bentley Continental GTC Review, Specs, & Pictures
Following the introduction of the new Bentley Continental GT in late 2010 as a 2012 model, Bentley has released first details on new Continental GTC, which will go on sale alongside the coupe. Like its closed-roof companion, the 2012 GTC features a more muscular design, additional power, faster shifting transmission, and interior refinements.
Building on the changes we first saw on the coupe, the new GTC presents a more sculpted body, giving it a sharper and less bulbous appearance than its predecessor. The GTC's grille is more upright and new headlamps offer jewel-like detailing with LED lights. At the rear, Bentley's "floating" LED lamps now extend around the corners. A new trunk design also now features a powerful "double horse-shoe," much like the Mulsanne. Twenty-inch wheels accent the strong fenders and are now standard. The GTC will also follow the Mulsanne and new 2012 GT coupe in offering 21-inch wheels from the factory for the first time.
The 2012 GTC is a hair longer, and smidge taller, and more than an inch wider. Despite its near identical proportions, it weighs 100 pounds less than the outgoing car. Utilizing the 567-hp version of the 6.0-liter twin-turbocharged W-12 engine and new faster six-speed automatic transmission (shift times are cut in half to 200 milliseconds), Bentley says the 2012 GTC will accelerate zero-to-60 mph in 4.5 seconds and top out at 195 mph. That makes it faster than the 2011 GTC and on par with the 2011 GTC Speed.
A wider track, both front and rear, sharper steering, retuned suspension, and rear-wheel-bias 40:60 split in the four-wheel-drive system helps cut understeer and provide a more balanced and sporty feel.
But the Continental GTC is not a track car and part of its allure comes from the sumptuous handcrafted cabin, including premium leather, real wood veneers, bright metals, and soft carpets. It is complemented by a multi-layered fabric hood and acoustic glass for better noise isolation. The cabin of the 2012 GTC also provides additional rear legroom thanks to its new front chairs, new storage solutions, and a Bentley-designed Mercedes-Benz Airscarf-mimicked Neck Warmer for more comfortable roof-down motoring in extreme climates. A 30GB touchscreen infotainment system is being employed throughout the 2012 lineup and that includes the new GTC.
The Bentley Continental GTC is now available to order with a MSRP of $212,800.