Continental GT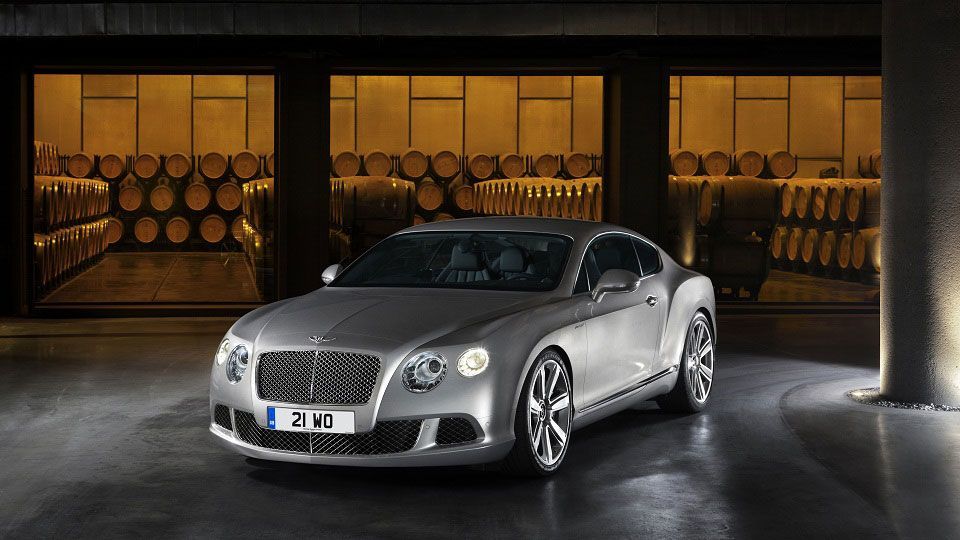 The Continental Story
Presented by Bentley Northbrook
Throughout history, there have been moments when a Bentley has altered our understanding of great motoring.
From the company's earliest days, our cars set new standards in automotive design and engineering. They were icons of motoring. These cars took the Grand Touring rulebook and rewrote it. The beautiful R-Type Continental in the 1950s and the Continental GT at the start of the 21st century. A revolution in Grand Touring. At the start of a new decade we unveiled our masterpiece, the Continental GT. A stunning coupé that blends classic Bentley DNA with contemporary design and modern technology. The perfect fusion of supercar performance and handcrafted luxury ensures the remarkable, the Continental GT creates a revolution of its own. Welcome to a new chapter in Bentley's automotive history.
Driving Dynamics
What use is power without control? As any driving enthusiast will tell you, to appreciate the latter, you need a car capable of handling the former.
The Continental GT is a fine example of our engineers' determination to create the ultimate Grand Tourer. The coupé's wide, low-sprung appearance is more than just for looks. Its width means it sits aggressively low to the road. This 'planted' appearance means its not just hunkered down ready for action but in motion is incredibly stable at all speeds, in all circumstances. State-of-the-art suspension, including Intelligent Continuous Damping Control, constantly monitors the car's attitude and poise. Adjusting the suspension settings hundreds of times a second to deliver a supple ride at low speeds and increased control as your speed climbs. Unlike standard two-wheel-drive cars, the Continental GT benefits from one of the world's most advanced all-wheel-drive systems, ensuring that all the power the 12-cylinder engine generates is utilised. Its ability to accelerate under a wave of torque at any speed, in all weather conditions is unparalleled. All-wheel drive is not simply about delivering superb traction for higher performance, it also ensures greater safety in all weather conditions. The advanced system can instantaneously adjust the power split between the front and rear wheels depending on the available grip. In addition, the uprated Electronic Stability Control (ESC) system operates alongside the all-wheel drive system to deliver superb reassurance whatever your driving style.
Performance
The soul of the Continental GT is Bentley's acclaimed 12-cylinder, 6-litre power unit, now engineered to provide greater supercar performance.
With increases in power, torque and fuel efficiency; the Continental GT's engine is renowned as one of the most technologically advanced of its kind. Designed in a unique 'W' configuration, it is the most compact 12-cylinder engine in the world. Capable of running on the latest environmentally sustainable bio-fuels thanks to its advanced FlexFuel technology, allowing it to run seamlessly on gasoline, bioethanol (E85) or any combination of the two. With a 40:60 (front:rear) split power ratio, the Continental GT feels even more poised for action and more controllable cornering. The Continental GT is even faster than its predecessor. With its power output raised to an immense 575PS (567bhp/423kW) and 700Nm (516lb ft) of torque. In tandem with a new six-speed Quickshift transmission, gear change times are reduced by 50 per cent, it will launch from standstill to 60mph in just 4.4 seconds and reach a top speed of 198mph (318km/h).
Craftsmanship
The GT's interior is a whole different experience.
Over 80 per cent of the entire cabin is trimmed with exquisite soft-touch leather, while our full range of wood veneers, cool-touch metals and deep-pile carpets act as the perfect contrast. All are finished in our unparalleled workshops – our attention to detail even extends to applying a UV stabilizer to our veneers to protect them from bleaching, so they can be enjoyed for decades to come. And as with every Bentley wherever metal is on show, you can rest assured that it is only the finest stainless steel or chrome, to give that reassuringly solid feel from the very first touch. Every single stitch in every leather hide is still sewn under the watchful eye of our craftsmen and women – as it always has been - and in the Continental GT, the manner in which these stitching lines enhance the interior surfaces has been brilliantly emphasised. Thanks to the use of ingenious angled 'ramps' behind the leather, our designers have been able to create sharp, well-defined interior styling lines, while maintaining a soft-touch feel. Even the glovebox has been studied intently to allow it to open in a way that is most pleasing to the touch. We calculated the ideal force required to release it and even the time it takes to glide open – 1.7 seconds, in case you were wondering.
Interior Design
With an entirely new hand-crafted interior, the Continental GT sets new standards in refinement and luxury.
Our interior designers have skilfully evolved the car's cabin to produce a stylish yet cocooning space. Incredible attention to detail has gone into making the cabin as quiet and refined as possible. The instrument panel and dashboard subtly echo the flying wings of the Bentley motif. Fashioned from the highest quality soft-touch leathers and striking new analogue dials that flood at night with 'blood orange' illumination. Touchscreen technology, chrome-bezelled dials, and the innovative, removable storage case crafted from matching veneer are housed within this dynamic cockpit area, which rises from the centre console in the form of dramatically surfaced 'wings'. The distinctive 'cobra' design seats feature the latest body-supporting materials, for superior comfort. With front-seat ventilation as well as a state-of-the-art massage system. Their improved ergonomics also means more legroom for back-seat passengers and their slim-line design provides easy access to the rear cabin. With a host of beautiful main and secondary leather hide options, veneers, engine-spun metal fascias, and exterior paint colours (including remarkable new Extreme Silver and Liquid Mercury finishes), the world of choice when it comes to creating your Continental GT is breath-taking.
Technology
To complement its modern interior, the Continental GT boasts advanced touchscreen technology.
The system – designed specifically by Bentley – uses a combination of touchscreen controls and classic knurled rotary switches to offer instant usability and crystal-clear feedback. Even the graphic interface of the touchscreen was created in-house to ensure its visuals were completely in keeping with the style of the whole interior. Look closely and you will see that the knurled switches on the screen are 'virtual' echoes of the real knurled switches below. The 8-inch touchscreen possesses the latest navigation technology, and places the car's audio system, telephone and comfort settings at your fingertips. The new infotainment system provides the ultimate in audio sound systems. The Naim for Bentley Premium audio system continues to set new standards for in-car entertainment. Created exclusively for the Continental GT by British audio specialists Naim, it offers an industry first, the latest Balanced Mode Radiator speakers and Dirac Dimensions™ digital processing that 'virtually' alters the position of loudspeakers to transform your car's cabin into an auditorium.
Sculpted Potency
Creating a new GT Coupe allowed our design team to combine inspiration from past iconic Continental models with the most advanced technologies.
This skilful blend of heritage and contemporary ensured that the Continental GT would be more than just an eye-catching evolution. The familiar haunch line – a crisp modern echo of the original 1950s R-Type Continental – has even sharper radii to create distinct surfaces giving a wider, longer and more sporting feel. These sharp, contemporary lines are only achievable as a result of new design and manufacturing technologies. It's only thanks to Bentley's state-of-the-art facilities and its life-long commitment to producing coach built cars that these exquisite details can be achieved. The Continental GT profile is as characteristic as ever. The classic, imposing matrix radiator grille, has been given an even stronger feel. The headlights have been designed to incorporate a beautiful jewellery effect. And at the rear, distinctive wraparound lights – seamlessly integrated into the haunches of the car – are distinguished by their signature 'floating' LED lamps. Meanwhile, the boot lid introduces the powerful 'double horse-shoe' motif first seen on the all-new flagship Bentley Mulsanne, while flared elliptical exhaust tailpipes drive home the Continental GT's sporting credentials.
Technical
ENGINE

| | |
| --- | --- |
| Engine Capacity | 5998cc |
| Max. Power | 567bhp / 423Kw / 575PS @ 6000rpm |
| Max.Torque | 700Nm, 516 lb-ft @ 1700rpm |
| Emission Level | EU5 / LEV11 |
| Fuel | 98 (95) RON |
DRIVELINE AND TRANSMISSION
Continuous all-wheel drive
40/60 front/rear torque split
ZF 8-speed automatic transmission with steering column-mounted paddleshift
PERFORMANCE
Max. Speed
198mph / 318km/h*
Acceleration 0 - 60mph
4.3 seconds*
Acceleration 0 - 100km/h
4.5 seconds*
* Power rating based on 98 RON fuel
FUEL CONSUMPTION EU DRIVE CYCLE

| | |
| --- | --- |
| Urban | 12.7mpg 22.2 litres/100km |
| Extra-Urban | 28.0mpg 10.1 litres/100km |
| Combined | 19.5mpg 14.5 litres/100km |
| CO2 emissions (combined) | 338g/km |
EPA DRIVE CYCLE

| | |
| --- | --- |
| City Driving | 13 USmpg |
| Highway Driving | 20 USmpg |
| Combined | 15 USmpg |
WEIGHTS AND VOLUMES

| | |
| --- | --- |
| Kerbweight | 2320kg, 5115lb |
| Gross Vehicle Weight | 2750kg, 6063 lb |
| Boot Volume | 358L, 12.6cu-ft |
| Fuel tank capacity | 90L, 20 Gallons / 24 US Gallons |
DIMENSIONS

| | |
| --- | --- |
| Overall Length | 4806mm, 189.2in |
| Width across mirrors | 2227mm, 87.7in |
| Width with folded mirrors | 1944mm, 76.5in |
| Overall Height | 1404mm, 55.3in |
| Wheel Base | 2746mm, 108.1in |