Bentley Mulsanne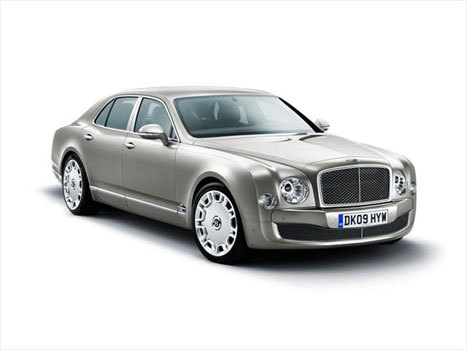 The all new Bentley Mulsanne. The epitome of power and refinement.
Our demonstrator is here for you to view and test drive. Please call Bentley Sales to schedule your personal demonstration and to discuss order options and delivery timing.
The Mulsanne is a driving experience at the very pinnacle of British motoring, mixing the very best of modern technology and engineering with the unique heritage of the marque.
The long bonnet, short front overhand and longer rear overhang help to convey a sense of dynamism and movement, which is reinforced by muscular haunches and sharply sculptured lines that flow gracefully from the front wings to the rear. It all hints at the phenomenal power and performance that are in reserve at all times.
It is a powerful and elegant driver's car like nothing else on the road.
To create as refined a car as the Mulsanne requires a blend of technology and craftsmanship that can only be found at a marque like Bentley.
Yet this is precisely what has been achieved with the Bentley Mulsanne. Like a powerful athlete that is also a swift and graceful runner, it captures a unique fusion of power, elegance and sporting style.
The entire body is sculpted to create rich design contrasts. It appears to be solid, as if sculpted from a single block, yet simultaneously graceful and elegant. Solid yet sleek. Classic yet modern. The design is made to accommodate customized materials, not to reduce their usage. For example, the hand brazing of different thicknesses of steel is required to create that exclusive, seamless, flush-fit feeling. Imagine, for example, that it takes a full 45 minutes to braze one lengthy section of metal behind the rear doors.
By taking these extra steps, Bentley craftspeople can create a sleek work of art that further accentuates those classic British Bentley proportions: Sweeping lines flow into sporting, powerful haunches, hinting at capability in reserve. Difficult? Yes. Impossible? No
INFOTAINMENT AND TECHNOLOGY
CENTRED AROUND A 60-GIGABYTE HARD DRIVE, THE MULSANNE'S MULTIMEDIA SYSTEM ALLOWS STORAGE OF THOUSANDS OF YOUR FAVOURITE SONGS OR PICTURES.
There are even two SD memory card slots and, in available markets, a telephone SIM card slot.
The Mulsanne's standard audio system comes with 11 speakers powered through six channels, digital sound processing and full iPod® and MP3 player compatibility.
Music enthusiasts looking for the ultimate in-car audio, however, will opt for our exclusive Naim® for Bentley premium audio system. This renowned British company has collaborated with Bentley to create sound systems that are like a "mobile concert hall," as one journalist described. Featuring 20 channels, allowing individual control of the 20 custom-made speakers, with eight distinctive DSP modes and an Active Audio Enhancement function, it can fill the interior with up to 2200 watts of rich sound.
All the Mulsanne's infotainment systems are controlled via a high-resolution 8" screen that is completely concealed behind a beautifully veneered panel when not in use. There is even a unique, leather-lined storage draw designed specifically for holding your iPod®.